MISSOURI ARTS AWARDS 2019
Since 1983, the Missouri Arts Council and the State of Missouri have been honoring our state's arts heroes—the people who make the arts happen. The annual Missouri Arts Awards celebrate people, organizations, and communities that have made profound and lasting contributions to the cultural and artistic climate of the state. Honorees are selected by an independent panel in six categories: Arts Education, Arts Organization, Creative Community, Individual Artist, Leadership in the Arts, and Philanthropy.
The 2019 Missouri Arts Awards were presented in a ceremony in the Capitol Rotunda in Jefferson City on Wednesday, February 6, 2019. As always, the performance and the ceremony were free, and everyone was welcome to attend.
Arts Education | Circus Harmony, St. Louis
Circus school and performance organization for young people using the power of circus arts to teach life skills, inspire performers and audiences, and connect communities—"we help people defy gravity, soar with confidence, and leap over social barriers, all at the same time"
Arts Organization | Kansas City Symphony
Kansas City's full-time professional orchestra, serving people throughout the region through classical, pops, family, and Film + Live Orchestra concerts; education and outreach programs; broadcasts; recordings; and playing for Lyric Opera of Kansas City and Kansas City Ballet
Creative Community | City of Hannibal
Historic Mississippi riverfront city that has become an arts magnet, with programs by the Hannibal Arts Council, festivals from Twain on Main to Big River Steampunk, concerts indoors and under the stars, professional theatre, and studios and galleries fueling an economic rebirth
Individual Artist | Steve Snyder, Mount Vernon
Photographer esteemed for his images of his native Ozarks and a leader with regional arts groups, whose most recent project is his ongoing Freedom Endeavor traveling exhibition that enables veterans to tell their stories through dramatic then-and-now portraits
Leadership in the Arts | Cecilia Nadal, St. Louis
Founder and executive director of Gitana Productions, Inc., who since 1996 has produced scores of concerts, dance performances, original plays, festivals, and community events to bring together diverse people for cross-cultural healing and acceptance
Philanthropy | Alison and John Ferring, St. Louis
Donors of millions to numerous St. Louis-area organizations including COCA-Center of Creative Arts, Jazz St. Louis, Contemporary Art Museum St. Louis, St. Louis Public Library, Forest Park Forever and more – "education and the arts are our charitable passions"
Signature Image and Awards Artwork
Signature Image | Night Movie, photograph by Julie Blackmon of Springfield, is featured on the 2019 Missouri Arts Awards poster, invitation to the awards ceremony, and program for the ceremony.
Awards Artwork | The 2019 honorees (other than the Creative Community, which receives special signage) are receiving glass artwork by Michael T. Moran of St. Louis.
Arts Education | Circus Harmony, St. Louis
"While the kids flip and fly, they are learning focus, persistence, and teamwork—problem-solving, resilience, empathy, and confidence," says Circus Harmony's artistic/executive director and founder Jessica Hentoff. "Circus Harmony is a social circus, teaching the art of life and motivating social change through performances and education."
Since 2001, with its school and shows at St. Louis' City Museum, plus outreach with schools, clubs, and community centers, Circus Harmony has been building character and community for young people of all abilities, cultures, and economic backgrounds. The circus serves 1,400 students and performs 500 shows each year.
The Peace Through Pyramids program connects children from vastly different neighborhoods. "When they meet each other, they don't ask where they're from," says Ms. Hentoff. "They say, 'I like to tumble, what do you like?'" Students work with even more disparate people when circus interns come from around the globe. In July 2018, Circus Harmony performed with the National School of Circus of Puerto Rico in communities severely impacted by Hurricane Maria. The troupes will reunite in St. Louis in July 2019.
The Circus Harmony in the Parks program takes shows, workshops, and classes to underserved areas. Scholarships for classes and transportation open up more opportunities. The Life Skills program for upper-level students teaches financial literacy, conflict resolution, goal setting and more.
"We not only provide hope to kids because they realize how powerful they are," Ms. Hentoff says, "but also bring hope to the audiences when they see what these young people are capable of."
Arts Organization | Kansas City Symphony
Now in its 37th season, 80 musicians strong, the Kansas City Symphony is the region's full-time professional orchestra and a major cultural force. As Audiophile Audition said when reviewing the GRAMMY Award-winning CD Britten's Orchestra, the Symphony "has grown to a stature that vies with the other top U.S. orchestras."
Under the visionary musical leadership of Michael Stern since 2005, the Symphony's repertoire is community-focused and far-ranging. There are classical, pops, and family concerts; Film + Live Orchestra shows; the free chamber music Happy Hour Concerts; and much more. During the 2018-19 season, the Symphony is playing 136 full-orchestra concerts as well as 56 performances for Kansas City Ballet and Lyric Opera of Kansas City. Performances are as grand as the Bank of America Celebration at the Station every Memorial Day weekend, with a live audience of 50,000 and televised across four states, and as one-on-one as a small group of musicians playing for patients at a veterans' medical center.
More than 70,000 people, including students and teachers from 300+ schools in 59 districts, participate each year in education programs like the Young People's Concerts and Instrument Petting Zoo. The Symphony continually reaches with programs such as weekly broadcasts on the NPR-affiliate KCUR-FM, free open rehearsals and master classes, and partnerships with other cultural institutions.
The Symphony stands out among orchestras nationwide for consistently maintaining a balanced operating budget. The orchestra's annual economic impact on the region is $24 million.
Creative Community | City of Hannibal
Hannibal has long been renowned as the town where Mark Twain grew up, whose people and places inspired his tales of Tom Sawyer and Huck Finn. In the 1990s, Hannibal also became a magnet for artists. They were drawn to this northeastern city of 18,000 people by its affordability, welcoming atmosphere, the beauty of its Mississippi riverfront setting and Victorian buildings, and the active cultural life spearheaded by the Hannibal Concert Association, Hannibal Art Club, and Hannibal Arts Council.
Anchored by the cultural tourism draw of Twain sites such as the Mark Twain Boyhood Home & Museum, Hannibal's ever-growing array of arts organizations and businesses includes Alliance Art Gallery, Ayers Pottery, AVA Goldworks, Bluff City Theater, Gallery 310, Hannibal History Museum, Mississippi River Gallery, Studio 57 Productions theatre troupe, Hannibal Writers' Guild and many more.
The calendar of arts-driven festivals and events is year-round and extraordinarily varied—for instance, the Hannibal Folklife Festival, Music Under the Stars outdoor concerts, plein air River Bluffs Paint Out, Brew Skies Music Festival, Second Saturday Gallery Nights, and Big River Steampunk Festival. There are workshops, book signings, lectures, jazz evenings at local restaurants. From the Hannibal Arts Council's home base on Main Street, the Council produces a raft of gallery exhibits and community arts programs.
As Hannibal celebrates its bicentennial, the arts are contributing $5.09 million to its economy every year. "I am awestruck," says fiber artist and writer Bella Erakko, "by the explosion of artistic energy in this town."
Main Street in Hannibal during the 42nd annual Hannibal Folklife Festival, October 2018 | photo, Hannibal Arts Council
Individual Artist | Steve Snyder, Mount Vernon
Steve Snyder was already esteemed for capturing the spirit of his native Ozarks in his photography of people, buildings, farms, and nature when he embarked on The Freedom Endeavor, his unique traveling exhibit bringing recognition to veterans and helping them tell their stories.
In dramatic poster-sized black-and-white photographs, veterans in their civilian clothes hold photos of themselves when serving in the military. Mr. Snyder also records veteran interviews that people attending the exhibit can hear and read. "We see veterans every day—we meet them on the street, at the market—but do we really know the people responsible for our freedoms?" he says.
The Freedom Endeavor started in 2016 "with me trying to figure out how to take a nice photo of my dad. Then I thought, why stop at just him?" The exhibit now features 28 portraits. Mr. Snyder plans to create many more. The veterans are women and men, ages 24 to 94, from all military branches.
Mr. Snyder grew up on a small farm outside Mount Vernon. He has run his own commercial and fine art photography business, Images of the Ozarks, since 2006, with additional years as a graphic designer. He is a leader in his local arts community, including as a founding board member of the Mt. Vernon Regional Arts Council and as an instrumental supporter of the Veterans Historic Mural on the city square.
"I have constantly tried to capture the beauty I see all around me in everyday life," he says. "Whether in the country or in the city, art is all around us. All we have to do is look to find it."
Leadership in the Arts | Cecilia Nadal, St. Louis
As co-founder and executive director of Gitana Productions, for more than two decades Cecilia Nadal has used music, dance, and drama to nurture awareness, acceptance, and appreciation across diverse communities.
Ms. Nadal established Gitana in 1996 in the midst of her 23-year career leading her own human resources firm for immigrants and long-term unemployed people. Every concert, play, dance, festival, and special event she has produced has furthered Gitana's mission of "global healing through the arts."
One concert paired a star of Jewish rock with a Muslim master of Moroccan spiritual song. The St. Louis Roma Music Festival connected Bosnians, Serbians, and Croatians. The post-Ferguson drama Black and Blue probed tensions and misunderstandings between the African-American community and the police. Another original play, New World, was inspired by the true stories of refugee women who came to St. Louis from Afghanistan, Bosnia, and the Republic of the Congo.
Since 2006, Gitana's after-school program has brought together young immigrants and African-Americans who often live in the same neighborhoods but have no links between them. In 2012, Ms. Nadal built a collaboration among 80 local organizations to create a major conference on grassroots cross-cultural engagement. The many awards she has received, and her frequent role as a keynote speaker and panelist, have also raised the profile of how the arts can bridge gaps and build a dynamic community.
"We have to keep stirring up the pot," says Ms. Nadal. "We need to pull people together."
Philanthropy | Alison and John Ferring, St. Louis
"We gravitate toward organizations that fill educational, social, or neighborhood needs," say Alison and John Ferring. "We want to support nonprofits that move the needle."
Through their philanthropy and volunteer service, the Ferrings have been leaders in the St. Louis region's arts and culture community for many years. John Ferring is a St. Louis native, and the Ferrings have lived in the city since 1978, when he took up the reins of the family business in St. Clair that is now PLZ Aeroscience, of which he is chair.
The Ferrings' most spectacular recent donation is their $5 million leadership gift to the Create Our Future Campaign of COCA–Center of Creative Arts. "With the diversity of the artists at COCA, all working together," John Ferring said, "it represents what is great about St. Louis."
Because of the Ferrings' generosity, the main performance space at Jazz St. Louis' Harold and Dorothy Steward Center for Jazz is named the Ferring Jazz Bistro. John Ferring currently serves on the board of the Contemporary Art Museum St. Louis and the executive committees for Jazz St. Louis and Opera Theatre of Saint Louis. Alison Ferring is vice president of the board of Laumeier Sculpture Park, and serves on the advisory board for the Sam Fox School of Design at Washington University and the board of Shakespeare Festival St. Louis, of which she was a founding member. Among the many other organizations they have supported substantially are the Arts and Education Council, Craft Alliance of Art + Design, Forest Park Forever, Metro Theater Company, Saint Louis Art Museum, St. Louis Public Library, and The Sheldon Arts Foundation.
ARTISTS OF THE SIGNATURE IMAGE AND AWARDS ARTWORK
Signature Image | Julie Blackmon, Springfield
Julie Blackmon's photograph Night Movie, featured on the 2019 Missouri Arts Awards poster, program, and invitation, depicts a backyard showing of The Sound of Music. The idea came "when we were watching a movie outside with a projector set up," she says. "About every five seconds, one of the kids would get up for a snack, and they'd block the screen with their silhouette. I remember thinking the way their little frames looked on the screen was way more interesting than the actual movie. And the idea of the movie screen mimicking life itself was also something I was thinking about."
Ms. Blackmon lives in the same Springfield neighborhood in which she grew up, as do several of her siblings and their children, who are often subjects in her photographs. In 2016, the L.A. Times described her pictures as "absorbing, meticulously orchestrated slices of ethnographic theater…that abound with tender humor but also shrewdly subtle satire."
Ms. Blackmon's work has appeared on the cover of TIME and New York Magazine, and in various other publications such as The New Yorker, L.A. Times, and Vogue. It is in the collections of museums such as the Kemper Museum of Contemporary Art and the Nelson-Atkins Museum of Art in Kansas City, the Toledo Museum of Art, and the Museum of Fine Arts in Houston, among many others.
Awards Artwork | Michael T. Moran, St. Louis
For the Missouri Arts Awards, Michael T. Moran has made his unique soft form bowls. He wraps a hot bit of glass onto a thin, perfectly symmetrical bowl, and heats the two "until the fun begins, and the bit and the bowl interact," he says. He gives the bowl its velvety finish by sand-blasting it and then hand-rubbing with a pumice slurry.
"I get inspiration from the natural world and from the history of glass," he says. "I love modern design, and the simplicity of mid-century modern forms."
Mr. Moran is both a glass artist and an architect. Born in Vermont, reared in Florida, he came to St. Louis for graduate school in architecture at Washington University. He began working with glass in 1989 shortly after earning his master's degree. He currently pursues both his passions as the head of his own architectural design firm, MtM Design LLC, which he founded in 2009, and as an instructor, demonstrator, and studio artist at Third Degree Glass Factory in St. Louis. "I love people's astonishment when they participate in making something from a furnace blob," he says.
"Glass is the only man-made natural material. It's connected to fire, to the earth, the air—the very breath of your life is blown into the glass to inspire its form! It is so fantastic. If you get it hot enough, it can become anything. Cooled properly, it will last for thousands of years. It's the best material for making things."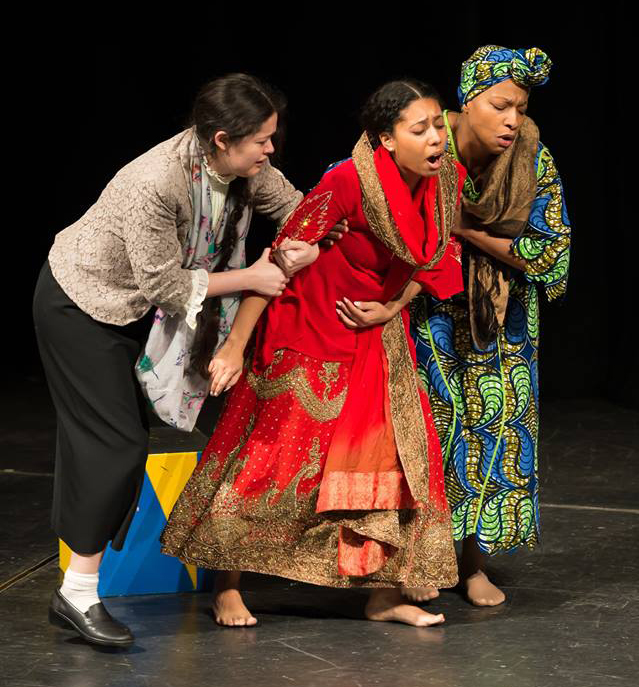 The Missouri Arts Awards honorees are selected by an independent panel of distinguished representatives of the arts community from throughout the state. These panelists selected the 2019 honorees:
Chair: Barth L. Fraker, Springfield | vice chair, Missouri Arts Council and Trust Board
Lois Brace, Mexico | executive/artistic director, Presser Arts Center
Consuelo Cruz, Kansas City | arts marketing coordinator, City of Kansas City Office of Culture and Creative Services
Jerry Ford, Cape Girardeau | director, The Jerry Ford Orchestra | 2017 Individual Artist Honoree
Sharon Kosek, St. Joseph | 2018 Leadership in the Arts honoree
Jack Lane, St. Louis | executive producer, STAGES St. Louis (2016 Arts Organization Honoree)
Jo Mueller, Joplin | retired executive director, George A. Spiva for the Arts |2016 Leadership in the Arts Honoree
Photo: Gitana Productions, directed by Leadership in the Arts honoree Cecilia Nadal, worked with St. Louis playwright Lee Patton Chiles to create New World, inspired by the true stories of refugee women who came to Missouri from Afghanistan, Bosnia, and the Republic of the Congo.
Governor Michael L. Parson and First Lady Teresa Parson
Missouri Department of Economic Development
Missouri Office of Administration