Photographs by 2021 Individual Artist honoree Priya Kambli from her project "Buttons for Eyes": Soha (Muma's Pictures), 2019; Eye (Muma and Maushi), 2019; India (Aajooba), 2019; Studio Portrait (Aajooba, Neela Atya, Sona, Mona, and Me), 2017
MISSOURI ARTS AWARDS 2021
Since 1983, the Missouri Arts Council and the State of Missouri have been honoring our state's arts heroes—the people who make the arts happen. Our annual Missouri Arts Awards celebrate people, organizations, and communities that have made profound and lasting contributions to the cultural and artistic climate of the state. Including the 2021 honorees, the awards have acclaimed 229 people, organizations, and communities throughout the state. Honorees are selected by an independent panel in six categories: Arts Education, Arts Organization, Creative Community, Individual Artist, Leadership in the Arts, and Philanthropy.
Experience the 2021 Missouri Arts Awards onscreen
Our honorees tell their stories—impact on their communities, challenges and rewards, inspirations and hopes—while scenes of their achievements unfold onscreen. This video showcase is introduced by Lieutenant Governor Mike Kehoe and a performance by Brian Owens, one of our Missouri Touring Performers and Missouri Featured Artists, with the Deacons of Soul.
Arts Education | Ben Martin, Lee's Summit
Teacher, leader, and arts education advocate, from 34 years of teaching to 10 years with the Missouri Alliance for Arts Education including as executive director, to his current work as Missouri's state captain for Americans for the Arts and with Missouri Citizens for the Arts
Arts Organization | Upstream Theater, St. Louis
Professional small theater company committed from its start in 2004 to promoting diversity, inclusion, and the cultures and concerns of people from around the globe by bringing audiences international plays performed with imaginative non-traditional casting
Creative Community | Cherokee Street, St. Louis
Since the 1900s a global crossroads in South St. Louis—a neighborhood of artists, studios, galleries, antique stores, music-filled watering holes, Latinx and Black mom-and-pop businesses, festivals and cultural events, spangled with public art from sculptures to participatory murals
Individual Artist | Priya Kambli, Kirksville
Internationally recognized photographer whose art is suffused with themes of loss, love, and memory across generations, inspired by the family heirlooms, artworks, and photographs she brought with her from India when she migrated to the U.S. at age 18
Leadership in the Arts | Laura Shultz, Kansas City
Executive director of the Northeast Community Center from 2008 to her retirement on July 1, 2021, and architect of the Center's Harmony Project KC, the local iteration of a revolutionary Los Angeles-born music program that through intensive education and mentoring helps the community's most vulnerable children and their families
Philanthropy | Clayco, St. Louis
One of the nation's largest privately-owned real estate, architecture, engineering, design-build and construction firms—a major supporter of the arts, especially equity efforts such as the Future Leaders Fellowship with Opera Theatre of Saint Louis
Signature Image and Awards Artwork
Signature Image | "Jefferson City: Capital City River and Rail Transportation, 1856," oil painting by Gary R. Lucy of Washington, is featured on the 2021 Missouri Arts Awards commemorative poster. The original painting was commissioned by Friends of the Missouri Governor's Mansion to celebrate the 2021 bicentennial of the State of Missouri and the 150th anniversary of the Mansion.
Awards Artwork | The 2021 honorees (other than the Creative Community, which receives special signage) receive glass artwork by Shawn Watt, master craftsman of Hazel's Blown & Cut Glass at Silver Dollar City in Branson.
Arts Education | Ben Martin, Lee's Summit
"Ben Martin is a teacher first," says Jeff Sandquist, chair of the Missouri Alliance for Arts Education (MAAE), "and that dedication to his students is the motivation for his continued efforts as an arts organization leader, advocate, and champion of arts education for the students of Missouri."
Until Ben Martin retired from MAAE in July 2020, he had worked with the Alliance for 10 years, including as executive director 2013-2020. Before that, his teaching career spanned 34 years. Garnering numerous Teacher of the Year and Hall of Fame awards along the way, he taught speech, debate, and theater in St. Clair, Warrensburg, Harrisonville, Belton, and finally for 18 years at Lee's Summit High School. "He always had a way of engaging his students and instilling lifelong lessons," recalls Bryson Bruce, Lee's Summit student 2007-2010 and a leading performer in two national tours of "Hamilton."
During Mr. Martin's leadership of MAAE, says past chair Robert. M. Gifford, not only did he build bridges among the member organizations and was a catalyst to strengthen each of them, "he enhanced the strength of the overall Alliance. He worked tirelessly to provide Missouri's arts educators with professional development opportunities and curricular tools to invigorate their teaching."
Mr. Martin has also constantly been active in theater, such as leading the Summit Theatre Group 2011-19. He continues to advocate for Missouri students as state captain for Americans for the Arts and with Missouri Citizens for the Arts. "Wherever he has gone," says John M. Faulkenberry, retired Lee's Summit principal, "he has fostered a love and respect for the arts."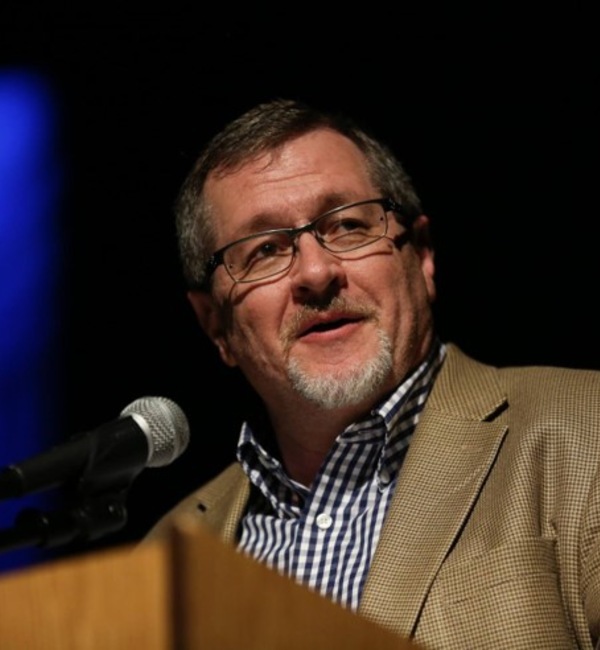 Arts Organization | Upstream Theater, St. Louis
"We believe that art engages as much as it entertains, and that by feeding the senses we feed the soul. Our goal is to move you, and to move you to think." Upstream Theater achieves this mission with new plays from throughout the world as well as innovative stagings of classics. A hallmark of this Actors' Equity company is its devotion to inclusion, diversity, equity, access, and collaboration, "with the plays we produce and the people we hire to produce them"—hard-wired into the company's DNA ever since Artistic Director Philip Boehm founded Upstream in 2004.
As of 2020, Upstream has produced 44 plays including 28 U.S. premieres, often in new translations, from nearly 20 countries. Recent productions have showcased contemporary works: the U.S. premiere of Québécois playwright David Paquet's hilariously offbeat, intriguingly chilling "Wildfire"; "The Agitators" by American Mat Smart, about the tempestuous yet enduring friendship of Susan B. Anthony and Frederick Douglass; and "Salt, Root and Roe," a poetic, surreal, heartbreaking comedy of love and family set by Tim Price on a remote coast of his native Wales. Classics performed recently have ranged from Sophocles' "Antigone" to a fully staged enactment of Samuel Taylor Coleridge's poem "The Rime of the Ancient Mariner" that featured live music by Sleepy Kitty.
Upstream has been nationally recognized by three grants from the National Endowment for the Arts and as the first company in Missouri awarded a National Theatre Grant from the American Theatre Wing, creator of the Tony Awards®. The St. Louis Post-Dispatch review by Calvin Wilson of "The Agitators" can stand for everything the company does: "theater at its most provocative and enlightening."
Upstream Theater's 2016 production of "The Glass Menagerie" by Tennessee Williams, with Linda Kennedy as The Mother (Amanda) and Sydney Frasure as Her Daughter (Laura). Upstream's staging was the inaugural production of the now-annual Tennessee Williams Festival St. Louis. The late Ms. Kennedy was the Individual Artist honoree of our 2008 Missouri Arts Awards. | photo, ProPhotoSTL
Creative Community | Cherokee Street, St. Louis
The "Street" part of Cherokee is a one-mile, east-west stretch in the heart of south city St. Louis. The community also includes diverse neighborhoods to the north and south. A constant magnet for immigrants and a commercial hub dating back to streetcar days, Cherokee enjoyed new activity in the 1990s spurred by Latinx business owners. Since then, scores of art galleries, live music venues, art collectives, entrepreneurs, and nonprofits—like Firecracker Press, Screwed Arts Collective, Native Sound Recording Studio, Pianos for People, and the Luminary—have added their creative fizz. "Over the past decade, Cherokee Street has increasingly been known as a home for the arts," says Emily Thenhaus, executive director of the Cherokee Street Improvement District established in 2017.
Among the many annual arts events that draw tens of thousands of visitors are the Nevermore Jazz Ball and Cherokee Street Jazz Crawl, Print Bazaar on Cherokee Street, and Lo-Fi Cherokee music festival. "And the arts create opportunities for our diverse community to come together," say Alderpersons Cara Spencer and Dan Guenther. "Participatory murals give residents a chance to shape their neighborhood. Events like Fiestas Patrias Mexican Independence Day Festival or the Juneteenth festival at Love Bank Park are important celebrations of community—centered around art, dance, and music."
According to a 2013 survey, Cherokee's zip code has one of the region's highest concentrations of resident artists. "Painters, printmakers, performers, DJs, poets, and dancers have all made this street the creative hub that it is," says Emily Thenhaus. "And countless businesses, organizations, and supporters have invested heavily to support the arts and keep that energy alive."
Individual Artist | Priya Kambli
"When I moved to America in 1993, I crammed 18 years of my life into one 20-pound suitcase," Priya Kambli remembers. The family photographs and heirlooms she fit into that suitcase when she left India became the wellspring of her photographic art. "I re-contextualize and alter my family snapshots and personal artifacts," she says, "to reveal the correlations between generations, cultures, and memory."
Since 2000, Priya Kambli has been professor of art at Truman State University in Kirksville. "The trajectory of her work has been steep, attracting broad attention nationally and internationally," says James O'Donnell, retired dean of Truman's School of Arts and Letters. Her works have been in numerous solo and group exhibitions, published in magazines nationwide, and are in several permanent collections including Houston's Museum of Fine Arts. Among her awards are a 2008 book publication prize from PhotoLucida for her project "Color Falls Down," the cover of the 2018 FotoFest Catalog, and United Photo Industries' 2019 "Female in Focus" award.
The death of her parents before she was 18 and her subsequent move to the U.S. continue to reverberate through Ms. Kambli's art. "My photographs visually express the notion of transience and split cultural identity caused by the act of migration," she says. "I also strive to connect the generations, my ancestors and my children, who have been separated by death and migration. I alter these photographs to modify the stories they tell." Says Aaron Fine, chair of Truman's Department of Art, "Her artwork reflects on her personal story in ways that are universal: loss, memory, love."
Leadership in the Arts | Laura Shultz, Kansas City
Harnessing the power of music, Laura Shultz has transformed an empty community center in an underserved neighborhood into a haven of safety, learning, and joy for hundreds of children and their families.
After the charter school housed by the Northeast Community Center (NECC) expanded and left, Ms. Shultz as NECC's executive director surveyed neighborhood families to learn what they needed from NECC: a safe place for children after school and on weekends, and programming to give the children quality opportunities. That led her to Harmony Project in Los Angeles. Harmony Project fosters children's academic potential and personal growth through year-round lessons, performances, and mentoring. Ms. Shultz raised the funds to establish the program locally and provide it to families at no cost, and forged partnerships with neighborhood groups, arts advocates, and artists. Harmony Project KC opened in January 2015.
"I could not possibly overstate what this program has accomplished in just these few past years since Laura began it, with her indefatigable drive, creativity, and initiative," says Michael Stern, Kansas City Symphony music director. Ms. Shultz has also made NECC a home for many social service providers so families have easy one-stop access. When the pandemic hit, she and her staff not only swiftly converted Harmony Project KC to virtual, but ensured that families had technical equipment and support.
"Laura combines joy, delight, and love with pragmatic attention to sustainability and NECC's bottom line," says Harmony Project founder Dr. Margaret Martin. "As an arts leader, she is both exemplary and irresistible."
Philanthropy | Clayco, St. Louis
"Clayco understands both the responsibility that comes with being an institutional leader in its community and the philanthropic spirit needed to lift that community," says Andrew Jorgensen, general director of Opera Theatre of Saint Louis (OTSL).
Established in 1984, Clayco is a full-service real estate, architecture, engineering, and construction firm that has revolutionized the design-build process. Clayco's tagline, "the art and science of building," encompasses all forms of art, from design collaboration with architects to supporting the arts through private development.
Since 2006, Clayco has supported Opera Theatre's professional development programs for artists, artisans, and arts administrators through its sponsorship of the annual fundraising gala. Clayco also strongly supports OTSL's Festival Season and has provided critical operating funds through significant regular gifts. When COVID-19 struck, Clayco was among the first donors to re-commit after OTSL was forced to cancel the 2020 season.
Clayco is deeply committed to equity within its industry and through philanthropy such as its educational and charitable Juneteenth Program. Clayco's most far-reaching gift to OTSL is a key component of OTSL's own equity efforts: the three-year pilot of the Clayco Future Leaders Fellowship. The Fellowship will support the careers of future BIPOC arts leaders and administrators by providing hands-on experience in business and arts administration, fundraising, marketing, and audience cultivation, developing the next generation of professionals to lead the arts of the future.
ARTISTS OF THE SIGNATURE IMAGE AND AWARDS ARTWORK
Signature Image | Gary R. Lucy, Washington
Gary R. Lucy grew up in Caruthersville in the Missouri Bootheel. In 1972, fresh out of Southeast Missouri State University (SEMO), he quit teaching elementary school art in Washington, Missouri, to try his luck as a full-time professional artist. Hundreds of drawings, paintings, and murals later, his depictions of America's historic rivers and Missouri's wildlife are enjoyed nationwide—from the Washington Public Library to "Smithsonian Magazine," from SEMO's Holland School of Visual and Performing Arts to innumerable private collections.
Since 1986, Mr. Lucy has been painting his ongoing series "Inland Waterways: The Highways of Our Heritage," showing stories of how inland waterways built the U.S. His art is underpinned by exhaustive historical research including location visits. The "Inland Waterways" work reproduced on the 2021 Missouri Arts Awards poster, "Jefferson City: Capital City River and Rail Transportation, 1856," was commissioned by Friends of the Missouri Governor's Mansion to celebrate the 2021 bicentennial of the State of Missouri and the 150th anniversary of the Mansion.
Mr. Lucy continues to pursue his art up and down rivers and into the past, often aboard his floating studio/houseboat. He and his wife, Sandy, live and work a block from Washington's riverfront in a restored building hosting their home, studio, and gallery.
"Art is one five-syllable word—communication," Mr. Lucy says. "When people look at my work, it tells them a history, what life was like."
Awards Artwork | Shawn Watt, Branson
Shawn Watt is master craftsman of Hazel's Blown & Cut Glass at Silver Dollar City in Branson. The 1880s-themed park is known not only for its rides, attractions, and entertainment, but for its cadre of 100 resident craftspeople who demonstrate their arts.
Mr. Watt was born in Anchorage, Alaska, and grew up in St. Joseph, Michigan. While in high school, he took a glassblowing class at a local studio and discovered a natural talent for the craft that eventually earned him a job working there. After graduating, he continued honing his skills by taking classes from craftspeople across the country and visiting glass studios all over the world.
Mr. Watt fell in love with Silver Dollar City during his first visit in 2009. Within minutes after stepping into Hazel's Blown & Cut Glass, he heard they were hiring. He got the job, and he and his wife packed up and moved from North Carolina to Branson a week later. "It's exciting to not only be a part of the 5,000-year history of glass makers," he says, "but even more fulfilling to be a part of the rich heritage of craftsmen at Silver Dollar City. I am thrilled to collaborate with all the other crafters here." He describes his vision as "blending form and function to create a unique design that will work great in any home."
An independent panel of Missourians representing the arts community throughout the state selects the honorees from among public nominations. These panelists chose the 2021 honorees:
Consuelo Cruz, Kansas City; marketing and community engagement manager, Belger Arts Center and Belger Crane Yard Studios
Sarah Dresser, Columbia; manager, Office of Cultural Affairs, City of Columbia
Michael Gaines, Hannibal; executive director, Hannibal Arts Council and Missouri Association of Community Arts Agencies; 2012 Leadership in the Arts honoree
Sharon Kosek, St. Joseph; 2018 Leadership in the Arts honoree
Keith Kyle, Cape Girardeau; director of bands, Kelly High School
Jorge Leyva, Joplin; 2018 signature image artist
Cecilia Nadal, St. Louis; founder and executive director, Gitana Productions, St. Louis; 2019 Leadership in the Arts honoree